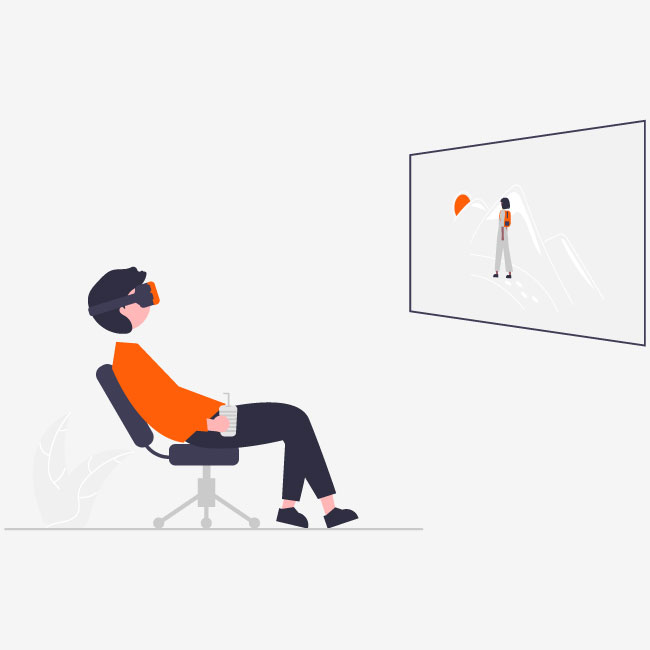 Create the most advanced and ravishing visual environment with our cutting-edge technology to virtually experience the surroundings, whether it be for the consumers seeking out the right products or for the professionals having to organise a distant meeting.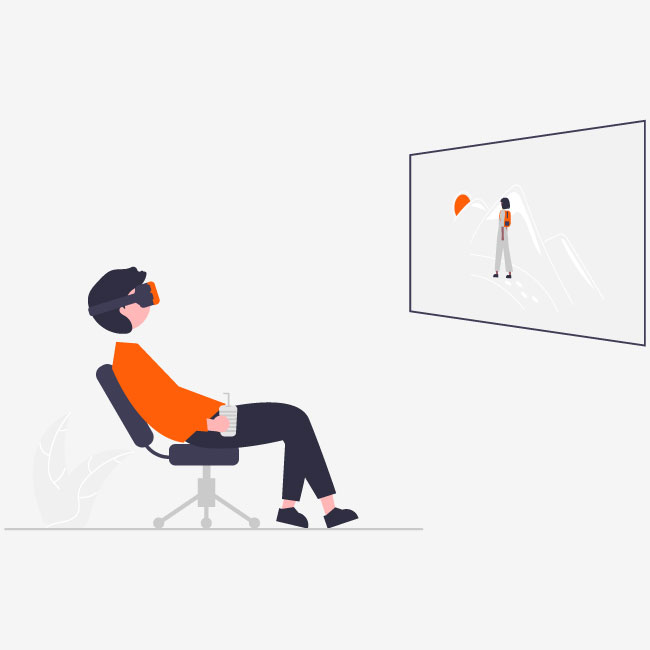 Embrace Our Eye-Catching Virtual Environment:
From the very outset, virtual reality is deemed to have the most viable and potential market in the ongoing trend. We have mastered this field with our ground-breaking integration with some of the leading VR experiences providers.  Be it medical, education, engineering, marine, archelogy, entertainment, game console, or architecture; we provide the most dazzling and innovative experiences with our virtual world whereby you can maximize the customers' growth and retention rate.
Whatever your business model or strategy is, as long as you believe in quality and efficiency, we can guarantee you the service you look for – turning it from real-time to the surreal world. If you think you want your software or games or systems to have VR technologies that are sophisticated and not complicated by the unnecessary trajectory of web development or even if it is very complex with a caveat that it needs a lot of development in terms of technology, we can provide that too.
Using an assortment of VR app development software and technology, we can create a virtual museum or art museum for you where you want to walk through for virtual tour or VR iOS games in which you can immerse yourselves so that you can feel the vibe and hype of the game or the office where you can have your meeting with your unattended colleagues.
Virtual Space focuses on the followings:
Able to produce a 3D model in a split-screen with a phase shift to give you a differentiation between the real world and the virtual world.
It gives an immersive experience into the world of fantasy by creating an app that solves mysteries like meeting in an office, diving in underneath the deep sea, smashing the height, performing medical surgery, etc.
Robust automation testing for better outcome and modifiability.
Application with Gyro functionality that detects your angular motion to manoeuvre toward a location where you move along simultaneously.
This app can work without the support of cables or any third-hand devices like phones to allow you to move outside of your home.
Manual navigation compatibility to experience the virtual movement, even remaining inside your residence when there is a restriction of movement.
VR's Application on Your Business Model:
VR comes out to great use in the fashion industry and retailing shopping experience by creating the atmosphere of the virtual fitting room with its state-of-the-art headset. You can use it to –
Create a virtual dressing room to see what size fits you from the clothing and apparel.
Use it by brand and catalogue to see what suits you the most and by what margin.
3D avatars for males and females in both front and back views.
Experience the street view of any region within any country by sitting in your place.
Engage with your users by inviting them to join you in any interactive quiz.
Make your kids feel like sitting inside the classroom during this pandemic using the VR in school mode.
Throw and face the challenges to earn more rewards and coins.
Score high enough to earn prizes in 3D VR games like Maze, Tic-tac-toe, Hangman, etc.
Embark on a mission to roam or conquer some of the harshest places in the world by motioning inside your home.